My nerves ahead of the cup semi-final were not helped by potential traffic problems. Due to some incident or other the M1 was closed over the weekend, which whilst not on our route to Wembley had knock on implications so we were determined not to get snarled up. My friend Paul arrived at 6.30am and we were straight on the road down to Wembley. The roads were already busy with coaches, mini buses and cars with flags and scarves flying. The services on the M40 were literally bursting with football fans and even at 8 o'clock in the morning it was already boisterous.
It may be a cliche to claim that Mancunians support City but there were certainly more blues on the road on our journey than reds, so either United fans were so used to travelling to Wembley that they leave it late or else they live just round the corner from Wembley and get up at lunchtime to travel to the game. I suspect a bit of both.
At just after 9.30am we arrived at the Harrow Hotel which as you have probably gathered is in fact a Hotel in Harrow. It's an approach to naming your business which everyone could benefit from, though as a hotel it did little else right other than being just one tube stop from Wembley and only £65 per room per night. However, we were there for an FA Cup semi-final rather than to review hotels so we dumped the bags and off we went.
All of the pubs were still closed so we killed an hour with strong coffee and sausage sandwiches and as tradition dictates used the condiments to map out likely team formations and tactics. Soon enough it was opening time and we found a pub called 'The Moon on the Hill' which whilst on a hill, was nothing like a Moon - not even a blue one so it completely failed on the naming front. It did however serve alcohol so I decided not to phone the Trade descriptions people.
Each pub was designated either City or United and this pub was already heaving. We sank a couple of looseners whilst waiting for a mate and his kids and then had a couple more to celebrate his arrival. When we were suitably refreshed we headed for the tube and off towards Wembley. As luck would have it we boarded a carriage full of United fans who were in full voice. Spotting my friends young lads City shirts they burst into some nursery rhyme they had all learnt about building a bonfire with City on top. They seemed a little shocked when their twee little song was returned with interest but we are well practised at this game.
Arriving at Wembley Park Station we walked up Wembley way through thousands of United fans as we headed towards the City end. It was still three hours before kick off but the atmosphere and tension was already building.
We had arranged to meet Paul's cousin David, a long serving Naval officer and as rabid a City fan as it is possible to imagine. Naturally, he had sought out the most tribal of positions to wait for us, a roundabout on the opposite side of the stadium where City fans had congregated to welcome each coach full of fellow blues and berate every coach full of reds. By the time we got there, there were thousands congregated around the roundabout. This is not my video, so apologies and thanks to the person who posted it on YouTube for posterity.....
The pubs around the roundabout were not admitting anyone else, particularly the Green Man which was overflowing with blues who had arranged to meet at the only pub that everybody knew the name of. The nearby supermarkets had closed their doors to the disgust of the thousands of fans milling around. However, a local off-licence was meeting the insatiable demands at £2 a can of beer.
The roundabout became more and more boisterous and a pair of United fans in a convertible golf with the roof down were forced to regret antagonising City fans when they became stuck at the junction. By the time they managed to get moving again their car was swimming in beer. So it continued for three hours with singing, bouncing, bantering, antagonising but mainly drinking.
The time soon came to head up to the stadium and the bright sunshine and electric atmosphere made the walk up to the stadium one of the most spine tingling experiences of my life. One of our tickets was an OAP ticket with the word concession written on it, a mere quirk of how we had distributed the tickets but nevertheless a nervous moment ensued which soon passed without incident. One entering the stadium we still had time for one more beer before entering the cauldron of noise. It was almost impossible to hear yourself think, a wash of noise. I've never heard anything like it even at the World cup semi final I went to in 1990.
I won't even attempt to describe the game, it has been covered thousands of times elsewhere and besides I needed to watch it back twice on my return to be sure of what really happened. The alcohol and the viewing angle from our seats made it difficult to get an accurate perspective on the game. What I can tell you is that when Yaya Toure scored the winning goal, I and everyone else in our half of the stadium went absolutely ballistic. Not for the 30 seconds or so that it would normally take to celebrate a goal but for a full 5 minutes.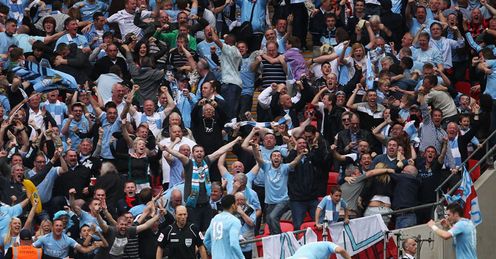 As a seasoned City supporter, I fully expected United to come at us and I could barely watch. In fact I had to sneak off for a walk around the concourse at one point. It was really getting to me. The five minutes of injury time seemed to be in slow motion, the countdown accompanied by 35,000 City fans whistling like their lives depended on it. When the final whistle arrived I experienced a high like nothing else I've ever encountered at a football match. Complete strangers hugged each other and danced celebratory jigs together, the sound washing around the City end like a victory howl, song melting into glorious song.
I remember noticing the away end being empty within 2 minutes of the final whistle, I have half a memory of the players celebrating immediately in front of us and I vaguely remember falling over the seat in front as the one I was dancing on gave way beneath me.
The rest of the evening was a complete blur. Half remembered conversations and celebrations, drunkenly lurching from one pub to another, singing all around us, . We eventually stumbled to bed somewhere around 1am, exhausted and emotional.
Whether our win spells a true turning point for us remains to be seen and largely depends on how we perform in four weeks time. However, the significance of this result was about more than the FA cup. It was about achieving some form of retribution, redemption or payback for past suffering. For the team and fans alike it meant turning up on the big day, standing strong and showing pride in battle.
Without a shadow of a doubt it was a day I will remember for the rest of my life.